STEP 1 – Crabgrass Preventer Plus Fertilizer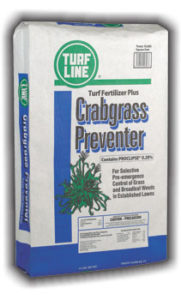 Apply anytime between April 1st and approximately May 15th. For best result, apply before soil temperature reaches 60 degrees at a depth of 2 inches or before forsythia bushes have lost their blossoms, as this is a good indicator to soil temperature. It will prevent crabgrass, foxtail, goose grass, barnyard grass and a host of other annual weeds and weed grasses. It will control crabgrass for up to 3-4 months depending on application rate and soil conditions. Turf Line's Crabgrass Preventer plus Fertilizer is fortified with all essential nutrients. It will promote stronger turf and quickly restore that deep rich green color. Use only on established lawns. Do not apply to newly seeded lawns. Wait four months after application before reseeding treated area. See product package for application instructions.
STEP 2 – Dissolve Weed Killer Plus Fertilizer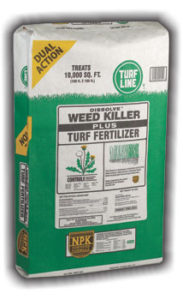 Mid-May through June is an excellent time for a second feeding of your lawn and usually when broadleaf weeds appear. TURF LINE's Dissolve Weed Killer Plus NPK fortified fertilizer contains all essential plant nutrients and will control dandelions, plantain, chickweed, buckhorn and most other lawn weeds. For best results, apply when grass is tall and moist. In order for weeds to be affected, the material must adhere to the leaves of the weeds for 48 hours. Do not cut grass 48 hours prior to application OR 48 hours after application. Avoid application when raining or rain is in the forecast. Do not water for 48 hours after application. Use only on established lawns. See product package for application instructions.
STEP 3 – Maximum Green Turf Fertilizer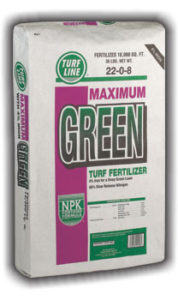 New improved Turf Line's Maximum Green Fertilizer is a fantastic turf fertilizer. The formula contains 4% Iron that aids turf grasses with nutrient uptake. The result is a well nourished and deep green lawn. 50% Slow Release feeds for approximately 8 weeks. This nitrogen will not burn your lawn, especially during the hot summer months. Maximum Green may be used anytime of the year, but fits into the 4 step program from August 1st – September 15th. For this product to be effective, it must be "watered in" by either rain or irrigation. Apply when rain is forecasted or irrigate a minimum of .5 inches. See product package for application instructions. *HINT: an empty tuna fish can makes a great rain gauge. Just measure and mark a line at half and inch, place it on the area that you are watering and turn off the sprinkler when the water hits the mark.
STEP 4 –
Winterizer 24-0-10 Fall Fertilizer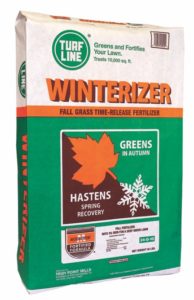 TURF LINE's Winterizer with NPK formula prepares your lawn for the cold weather and is specifically formulated for fall use when seeding or overseeding. It encourages root development and thickens turf without excessive leaf growth. This enables the lawn to better withstand the rigors of winter and hastens spring recovery. It is specially formulated for soil conditions in our area. Available in 5,000 and 10,000 Square Foot Bags.